Planning a vacation to Wilmington? There are so many great options for outdoor entertainment — and most exceedingly affordable!
Here are the top affordable outdoor spots to explore in Wilmington, NC:
Wilmington Riverwalk and Historic Downtown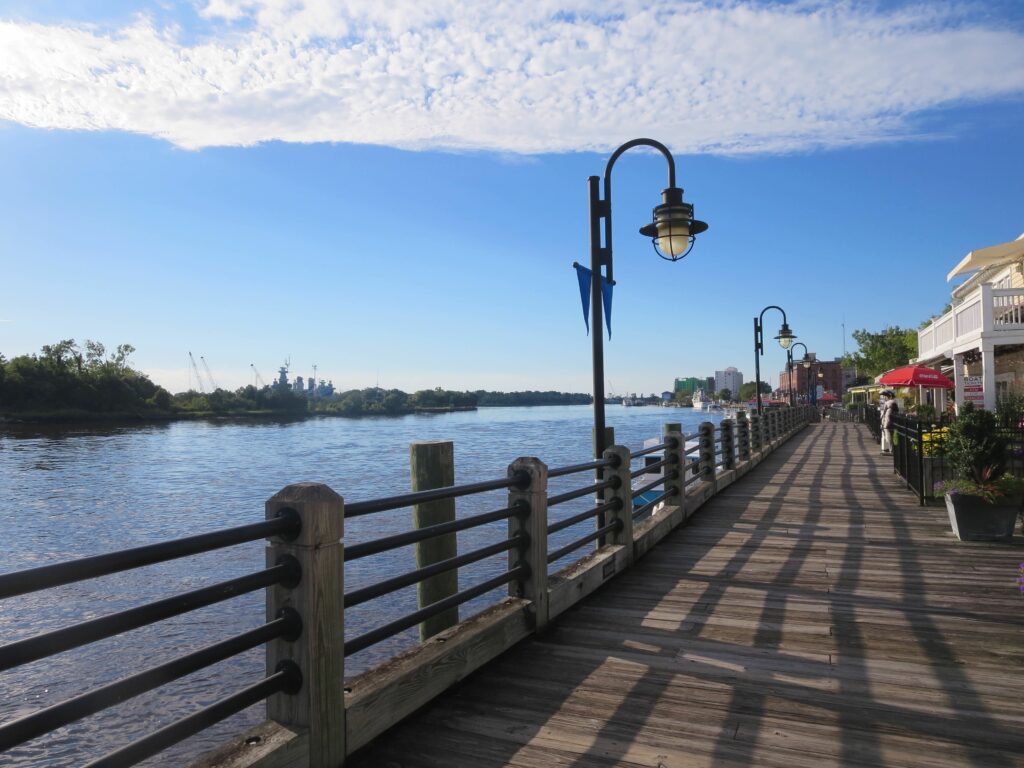 The Wilmington Riverwalk is a scenic 2-mile-long walkway along the Cape Fear River that stretches from Nunn Street to the Isabella Holmes Bridge. There are lots of possible stops along your walk, including restaurants, cafes, bakeries, unique gift shops, and entertainment. Conlon Pier is a beautiful viewpoint and also a place where fishing is allowed. Two fun stops along the way are the Museum of the Bizarre (201 S. Water St) with oddities and fun galore, and the Wilmington Railroad Museum (505 Nutt St) with a steam locomotive, model trains, and railroad history. If you're looking to dine on the riverwalk, there are a few options as well such as Floriana, Elijah's, The George on the Riverwalk, Michael's on the Waterfront, Anne Bonny's Bar and Grill, and many more.
While enjoying the Riverwalk, you'll also want to check out Historic Downtown. It's remarkably vibrant and loaded with things to do and see, and even just to wander around and enjoy the architecture and local businesses. By nightfall, the vibe changes into an energetic and boisterous mood, with bars, clubs, live music, and late-night food. There are also opportunities for ghost walk tours and haunted pub crawls.
(1 Battleship Rd NE)
The U.S.S. Battleship North Carolina is a decommissioned World War II battleship turned into a memorial honoring the state's WWII veterans. This vessel earned 15 battle stars and was instrumental during the war. At the time of writing, admission ranged from $6-14 per person, with optional guided tours available for an additional fee. We suggest reserving your tickets online before visiting.
You can drive there or you can take a water taxi from downtown Wilmington. If boat rides appeal to you, there are many options for water tours on the Cape Fear River that won't break the bank. Check out Wilmington Water Tours!
Visit Wilminton's Parks
There are tons of parks throughout the city, but here are just a few of our favorites.
Greenfield Lake Park (1739 Burnett Blvd) has it all: alligators and turtles, a winding path around the lake, tennis courts, a skatepark, a playground, and a picnic area. You can rent a paddleboat or kayak and paddle out amongst the cypress tree forest in the lake.
Long Leaf Park (314 Pine Grove Dr) has a splash pad, kids playground, BBQ grills (reserve in advance online), and one very unique feature: an adult playground with a 'ninja warrior' style obstacle course so mom and dad can practice their spiderman techniques.
Halyburton Park (4099 S. 17th St) has a lovely and quick 1.3-mile trail through a pine forest and a nice playground.
Hit the Beaches
North Carolina is home to some of the most beautiful beaches in the world, and Wilmington just happens to be situated right between two of them. Check out our in-depth article about which beach to choose here.
Carolina Beach is a long and very accessible beach and a great place to take the family. Soft white sand, and always plenty of space to enjoy yourself. Wrightsville Beach has beautiful white sands and the bluest waters; a great place to dip your toes in the water in a picturesque setting. A fun option in addition to soaking up the sun is renting a paddle board, ocean kayak, or beach cruiser bicycle for an hour or two.
Shark Tooth Island
(via River Road Park – 6500 River Rd.)
Whether you're bringing your kayak to Wilmington or renting one, you'll definitely want to visit Shark Tooth Island. Located across from River Road Park in the Cape Fear River on a nature preserve halfway between Wilmington and Carolina Beach, this island is only accessible by boat or kayak. It's a short 200-300 meter ride from the boat ramp and there will be lots of other kayakers there so you don't have to worry about getting lost.
Because of the unique currents of the Cape Fear River and the shape of the island, it collects many migrating shark teeth in the sands. You'll want to bring a colander or sifter so you can pan for shark teeth, and also bring some water shoes to protect your feet from oyster shells. The north end of the island is a great spot to check for shark teeth and other prehistoric fossils.
Take a Ferry Ride
Enjoy a cool day trip to Southport, complete with a ferry ride on the Cape Fear River. The ferry is extremely affordable and might well be a highlight of your trip. The ferry departs from Fort Fisher in Carolina Beach. You'll want to check the schedule and plan to arrive at least 45 minutes before your departure. If the line of cars isn't too long, you can always drive out to the tip of Fort Fisher to take in the beautiful view and grab some quick photos for a few minutes. If you find yourself with extra time, there's a trail down the wooded beach where you can spot fiddler and hermit crabs.
Once you're on the ferry, you'll enjoy a short trip over to Southport where you can take in some sights and unique restaurants, like Cafe Koa. You may also want to keep going 5 more minutes down the road to Oak Island, which has more restaurants and a beach.
When you're ready to go home, you can take the ferry back to Fort Fisher or travel down Route 133. This will take you right back to downtown Wilmington.
3800 Canterbury Rd.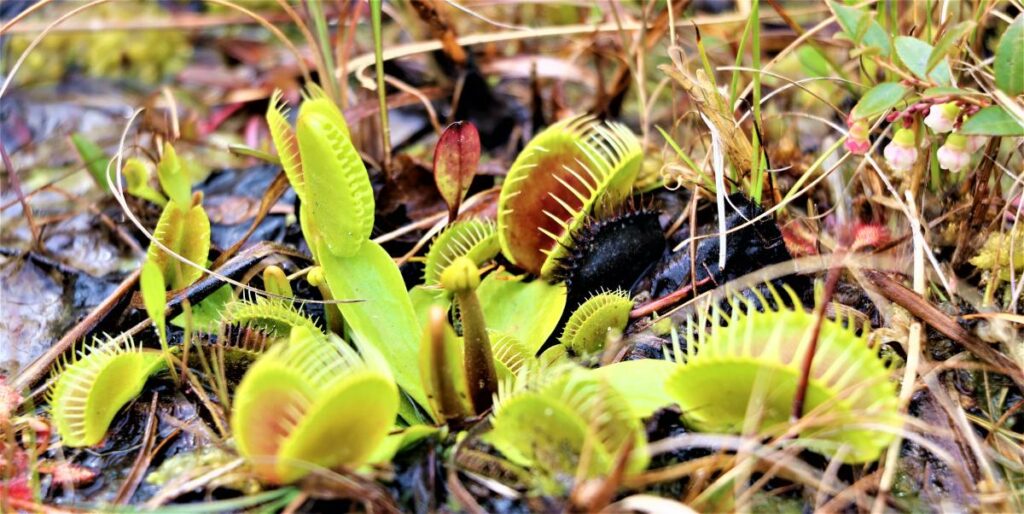 This garden is one of Wilmington's secret local treasures, located in the Piney Ridge Nature Preserve. Check out the area's native carnivorous plants, including Venus Fly Traps, Pitcher Plants, and Sundews. Plaques and interpretive signage is located throughout to help you identify different plants. Venus Fly Traps only grow in the wild in this region, and you'll see some huge ones in large bunches in dazzling hues of pink and purple. The pitcher plants are also very cool: they are bulbous plants that fill with water to attract bugs, which they then capture. There are fully pavedADA-accessible trails throughout the preserve. Don't forget to bring your bug spray!
300 Airlie Rd.
Originally privately owned and maintained, these now public gardens are enchanting. Depending on when you visit, you might get to see the azaleas in bloom or take a walk through the butterfly house. The gardens are a favorite of birders who come to see the many species that make this area their home. Airlie Gardens also hosts concerts during the summertime and other special events. At the time of writing, admission ranged from $3-9.
All of these activities and more are listed in our guest books, which will be provided when staying in one of our rental homes. Digitized versions will be available to view on our website, coming soon!
For all things visiting and staying in Wilmington, check out our blog for more insights! To book one of our rental homes, visit our listings page to check out all of our properties!