Wilmington has a lot of very good bike riding because it's flat, so you can go further and see more interesting things. Because Wilmington is a vacation town, the best time to ride is on weekend mornings before 10 AM when there is barely any traffic.
In the summer here, it stays warm at night so we recommend starting early when it's a little dark, but not too hot. The winds are also pretty predictable, so you can count on them helping you on the way out and sending you home in good time on your return.
Here are our favorite bike paths and routes to explore in Wilmington: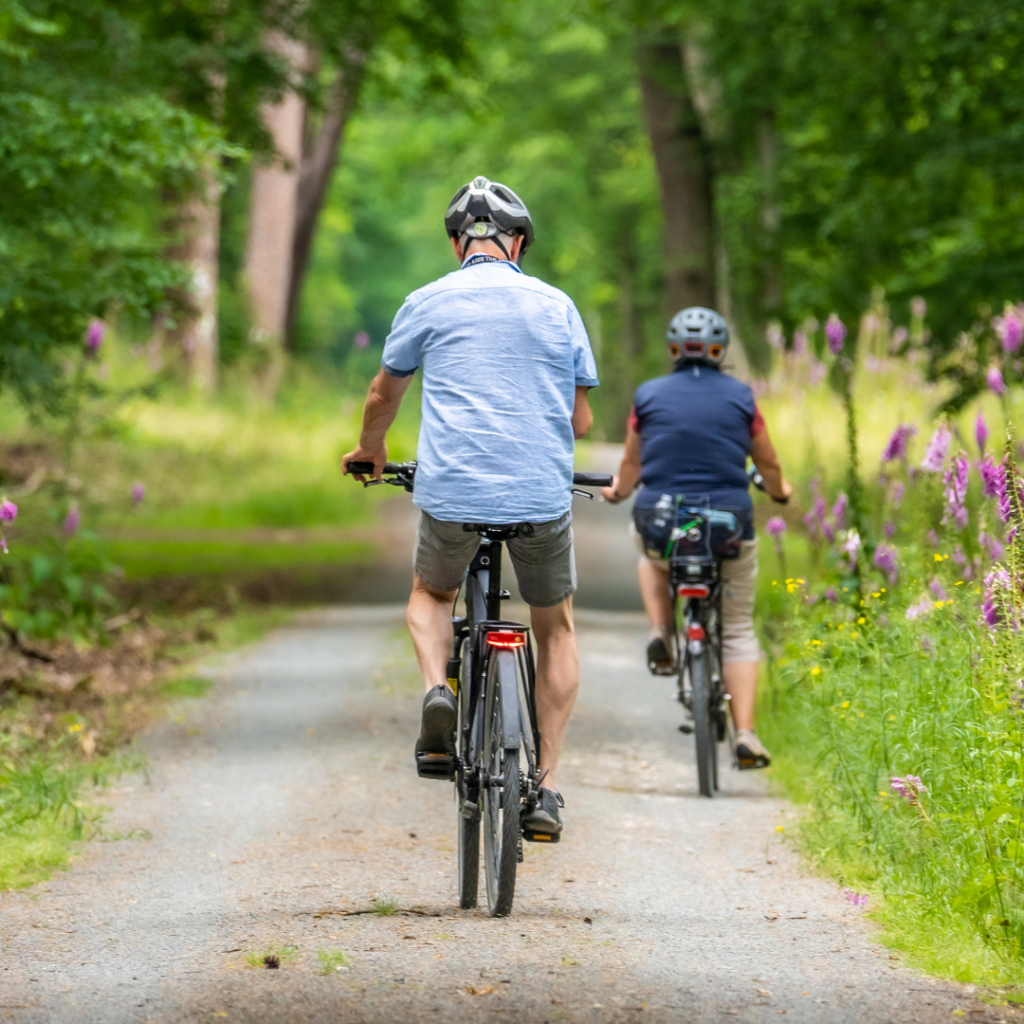 Greenfield Lake (5 or 9 miles)
Greenfield Lake is a Wilmington gem, with a lovely 4.5-mile biking/walking trail around the park, and frequent sightings of wildlife like turtles and alligators. You can drive to Greenfield Lake Park and ride around the lake on a mountain bike or beach cruiser or take to the road on a road bike. Parking is free at the start point.
If you stick to the street around the park on your road bike, you'll want to ride in the direction with the lake on your right because there aren't any stops. It's about a 5-mile ride, but there is a sketchy section of the road near the intersection with Carolina Beach Rd. It's best to take the sidewalk here. You can also get off the bike and chill at the park instead, as you're basically back where you parked. You can also turn your 5-mile ride into a 9-mile ride by turning around when you see Carolina Beach Rd, and going back around the park.
Note: If you're staying at the Greenfield Gathering place, your back door opens right up to this park!
Also, Greenfield lake park has lots to offer families including a park, a skate park, playgrounds, pedal boats, and kayak rentals.
The River-To-Sea-Bikeway (11 miles each way)
This 11-mile path leads from downtown Wilmington along the Cape Fear River and goes all the way to Wrightsville Beach. The majority of the path is along Park Avenue which is Wilmington's greatest biking road because there's not a lot of traffic and there are mostly 4 way stop signs. This Bikeway follows the path of Wilmington's former trolley line, The Historic Beach Car Line.
Some sections aren't as clearly marked as others, so you'll want to familiarize yourself with the map before heading out, or bring a copy with you. This is for moderately experienced cyclists who are familiar with sharing the road with automobiles and the challenges that can come with it. You can enjoy a short ride on this road or you can use it to get to Wrightsville Beach.
Below is a map of the River-to-Sea-Bikeway. There are 4 areas called out:
Navigating Ann and Castle: Castle is a super smooth road that you can get on anywhere above 3rd.
Crossing College: We don't recommend going this way; just keep riding on Park and cross where there is no light. Ride at your own risk!
An additional route to Wrightsville Avenue: Take this path! It avoids the Bradley Creek bridge that is sketchy and adds a nice trail instead.
Entrance to Wrightsville Beach: It's acceptable to skip this entrance and take the road over the Wrightsville Beach drawbridge. Be aware that the draw bridge is a metal bottom bridge and it's slippery in the rain!
Downtown to Wrightsville Beach (~30 miles round trip)
This path will mostly be on the River-To-Sea-Bikeway except when you get to the beach, turn right to the end. Then, turn around and ride to the other end. If you have a fat tire bike, you can ride up and down Wrightsville Beach which is beautiful and exhilarating.
At the time of writing this in summer 2022, there's a little construction at Independence and Park. When it's completed, you'll be able to ride straight through. I suggest avoiding this construction with an alternate path which is slightly longer.
On this ride, you can see boats on the Intracoastal Waterway and the ocean. The wind blows in one direction, so you get the feeling of climbing hills. You will want to be cautious while cycling on the beach and keep a lookout for other cyclists, joggers, and pedestrians. Depending on how much you ride on Wrightsville, that can add up to 15 miles to your ride.
You'll want to have enough liquids for the first hour of your drive as there are no stores on Park Ave. You can refill at several gas stations near Wrightsville Beach or any of the cool beach shops!
If you get familiar with the River-to-Sea Bikeway map, this trip is truly just that with a ride up and down the beach.
Downtown to Carolina Beach/Fort Fisher (~35 miles; 50 with add-ons)
This route is for experienced cyclists. Our preferred route utilizes a long stretch of River Road, which runs along the Cape Fear River. It's a section of road that used to be undeveloped, but now it has a bike lane and a bike trail. The trail is not yet complete, so it may be best to ride in the bike lane on the road but feel free to take either! There have been accidents along the route so you'll need to keep a watchful eye on cars.
This ride primarily follows River Road, but we recommend taking a longer path on Independence Boulevard to avoid a dangerous section around the state port where there are many railways at precarious angles. When you get on Independence Blvd, you'll want to look out for bike trails on and off the road. The path changes sides so just be alert. At the very end of Independence Blvd. where it meets River Road has no shoulder or bike lane.
Also, note that there are no stores on River Road. You'll need to get water at the gas station on Independence Blvd. In general, this would be a good route to drive before you bike it.
A round trip just to Carolina Beach and back will be about 35 miles.
Once you get to Carolina Beach, you can keep going down to Kure Beach and to Fort Fisher. One option once you get to Fort Fisher is to take the Southport Ferry. The ferry runs about every 45 minutes, is inexpensive, and gives you a lovely side trip to beautiful Southport before returning. Be sure to check the ferry schedule in advance.
Preparing For Your Ride
Don't forget to bring plenty of water or liquids and a lock for your bike. If you plan to swim, you'll also want a change of clothes. If you're planning to eat out while on your bike trip, many of the beach restaurants are fairly casual so you don't necessarily need a change of clothes to dine.
If you're on the Strava app, give Curt Altarac a follow. He's the owner of Wilmington Vacation Homes and an avid cyclist. He's completed many of these routes which you can view in the app. Feel free to message him any questions about one of the routes!
Bike Repairs
You're in luck! We have a few shops in Wilmington. For Pro Cycling, Bike Cycles in Mayfaire near Wrightsville Beach is a great choice. Ask for Jon — he provides excellent service! Bike Cycles also rent nice road bikes if you're flying into the area.
Two Wheeler Dealer provides a great selection of bikes, but it doesn't include a lot of options for road bikes so check them out if you're interested in other types. Also, check out Blue Clay Bikes in the Castle Hayne area. They're newer, but quickly building a good reputation.
Bike Rentals
Bike Cycles
6801 Parker Farm Dr #145, Wilmington, NC 28405
Rentals and they even offer delivery services.
EZ Electric Bike and Wheelchair Rentals
200 Market St Unit 120, Wilmington, NC 28401
The Spoke and Wheel Bike Rental
317 N 14th St, Wilmington, NC 28401
Rentals and delivery services.
Carolina eBikes
1319 Military Cutoff Rd Gg, Wilmington, NC 28405
You can ride from their store or rent for 24 hours, which includes delivery.
Wrightsville Beach Bikes and Boards
(910) 599-0774
Bike, surfboard, and kayak rental by delivery only.
For the latest guides and inside scoops in the Wilmington area, be sure to visit our blog.